Tuesday, 14 February 2006
Goals rained down on Chaplin Reserve on Sunday as the Georgies thumped the Preston LIons 4 - 1 in Round 2 of the 2006 Vodafone Cup to gain their first points of the season. Two goals in each half were enough to see off a ten man Lions outfit.

SUNSHINE GEORGE CROSS 4
(Neceski 23',75', Delic 25', Gasparis 87')

PRESTON LIONS 1 (Oksuz 36')

LINE UP: John (GK), Erdogan (Gauci-Seddon 53'), Azzopardi, Muscat (c), Kovacevic, Delic,
Waterson, Gilmour, Platt (Gasparis 76'), Cvetanoski (Pajic 62'), Neceski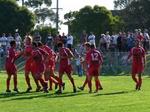 Sunshine George Cross had an easier than expected win over their more fancied opponent Preston Lions. The game at Chaplin Reserve produced plenty of goals and near misses, as well as plenty of cautions and a red card. The 2,000 strong spectators had plenty to enthuse about, as both team tore into each other from the start.

It was Preston who began best and went close to opening the scoring after 7 minutes when Robert Dolevski struck the underside of the cross bar. The Georgies had another let off when young winger Trent Waterson was in the right place at the right time to clear a
goal bound shot off the goal line.

Waterson turned from goal saver into goalmaker in the 22 minute, when his low centre was headed into the net by the diving Tony Neceski. Two minutes later Dusko Delic had all the room in the world at the edge of the penalty area and his shot easily beat the despairing Preston keeper.

At the 30 minute mark Sunshine defender Isyan Erdogan played a superb ball out of defence that split the Preston backline to leave Tony Neceski facing the Preston keeper. Neceski pounced on the ball first and lobbed Gruevski but was cruedly flattened by the goalkeeper.

Referee Jim Zaffirou has no hesitation in dismissing Gruevski who was replaced by Daniel Zilic. Preston's Nick Kalmar was the player sacrificed for Gruevski being red card. The 10 men Preston team hit back in the 36 minute to reduce the leeway, after Serkan Oksuz beat Sunshine keeper Martin John at the near post.

The second half was one way traffic with the Georgies enjoying a lot of possession and creating numerous goal scoring chances. Preston's reserve keeper Daniel Zilic was called upon time and again to rescue his side, coming out on top in one on one situations with Sunshine's
Craig Platt, Dusko Delic and Manny Muscat. The many near misses kept Preston in the game, but Martin John was given plenty of cover and his goal was never threatened. Sunshine wrapped up the match in the 71 minute when Tony Neceski latched onto a hard low shot by John Cvetanoski to score his second goal for the afternoon. Substitute Marinos Gasparis put the icing on the cake for the Cross in the 86 minute when he finished off a fine interpassing
move with Tony Neceski.

The final whistle could not come quickly enough for the tired Preston players and the eager Sunshine George Cross supporters who don't often see their side win with such a big margin.



| | | |
| --- | --- | --- |
| STATISTICS | | |
| CORNERS: | 4 | 4 |
| FOULS: | 18 | 6 |
| SHOTS ON TARGET: | 8 | 4 |
| SHOTS OFF TARGET: | 2 | 2 |
| OFFSIDES: | 3 | 0 |
| YELLOW CARDS: | 4 | 3 |
| RED CARDS: | 0 | 1 |

YELLOW CARDS: Delic (11'), Gilmour (28'), Muscat (42'), Waterson (59')