Monday, 06 February 2006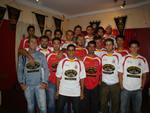 The Senior and Under 21 squads were presented to Sunshine George Cross supporters for season 2006 last Thursday night. President Charlie Borg welcomed all new additions to both squads and in a passionate speech reminded them of the history of the club they were about to play for and demanded they play with pride and passion everytime they stepped on to the park. After a rousing round of applause Michael Pichner presented the Under 21 squad with they jersey's and announced the captain of the squad would be Jonathon Falzon.

Chris Taylor then took centre stage and outlined the aims for 2006 and how he plans for it to be a stepping stone for the coming seasons for many of the new young additions to the team.