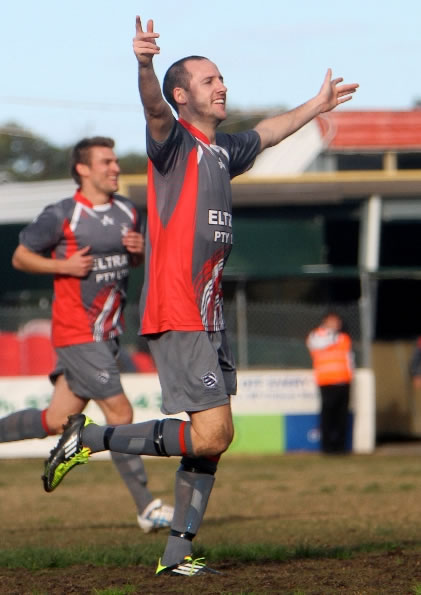 The 2011 Best & Fairest Barry Devlin winner and in the background Runner-up
Ben Cogger.

Barry Devlin
joined a long list of distinguished George Cross champions when he was announced the club's Best & Fairest Player for the 2011 season on Saturday night. Barry had an outstanding year and the decision was greeted with full approval by all in attendance. In his speech after the award, the tall Irishman paid tribute to his team mates and said he felt his runner up team mate
Ben Cogger
would have been a more worthy winner of the award. Barry also told of the many problems he & Con encountered in their their attempt in the coaching role when both were thrown at the deep end. Barry was disappointed with the lack of success and felt he let the supporters and the committee down with the poor results. He was full of praise of the committee for the unrelenting work they did throughout the season, especially with the playing surface of the pitch. Barry also emphasised the importance of promoting more youngsters from the under 21 team next season. He assured all, the youngsters will not let the club down.
In his speech coach
Con Anthopoulos
told the audience of his mixed emotions in his coaching role. At one stage he was a mate of the players and as a coach he had to make the tough calls that at times could have upset some of his mates. He emphasised it was strictly business and no offence intended. Con was satisfied with the ending to the season, but our cause was made so much harder with the departure of the British boys. He was looking forward to the next season and insisted the club makes the right choice as coach so that we can take the club back where it belongs in the V.P.L.
These were the awards winners:

SENIOR TEAM
-
Best & Fairest
Barry Devlin
.
Runner-Up
Ben Cogger
.
Most Improved
Simon Menichelli
.
Best Clubman
Tyler Schaefering
.
Top Goalscorer
George Slefendorfas
.

UNDER 21 TEAM
-
Best & Fairest
Arley Nini
.
Runner-Up
Simon Menichelli
.
Most Improved
Greg Georgiadis
.
Best Clubman
Eric Magrin
.
Top Goalscorer
Arley Nini
.
The President Award -
Habib Fleifel
.


Photos from the Presentation night will be posted shortly.