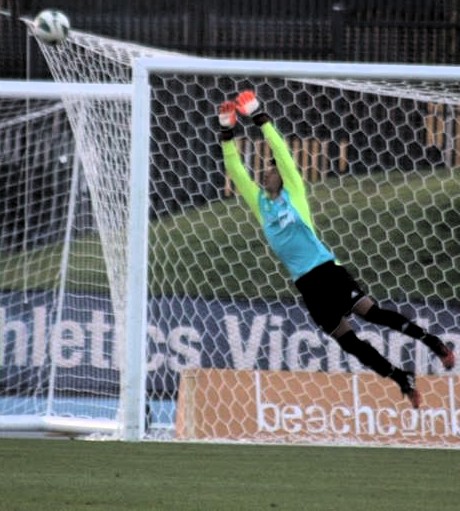 No one was more relieved after the Dandenong City game than 17 year-old Sunshine George Cross goalkeeper James Kapuranovski, who had just made his senior team debut for the club.
Little did he know that when he took the field last Saturday, at seventeen years of age, he became the youngest goalkeeper to ever play in the seniors for George Cross.
James, who turned 17 in February, was signed recently from South Melbourne as an understudy to senior keeper Robert Santilli. He spent three seasons at South Melbourne and prior to that he was at Essendon Royals, Brimbank Stallions and Pascoe Vale.
The injury to Santilli's finger at training last Tuesday night concerned coach Tony Ciantar very much. He knew all to well how much the team suffered last season when losing Robert Santilli for fifteen weeks with a broken foot.
During the course of the 2014 season many young goalkeepers were tried, but none could offer the same assurance to the defence as when Santilli was in goals.
Ciantar had no option, but to turn his attention to his new acquisition as a replacement in goal.
On being notified young James Kapuranovski was excited, but very nervous at being given a first team spot so soon after joining the club. It was very unexpected and he was very tense leading up to the game.
Once he went into the change room with the rest of the boys, and the team had their meeting, he began to relax. Coaches Tony and Renato spoke to James and all the players and his confidence grew.
James said this after his first senior match, "during the game I was comfortable as the entire team did a great job looking after me. The boys all played a great game, unfortunately we couldn't get the full three points, which we deserved.
After the game l felt extremely proud l represented George Cross at senior level, as the club has a lot of history in Australian football.
James showed enough on Saturday to suggest he has a good future in the game. As coach Tony Ciantar said after the game "he was commanding in the box and played his part like a mature goalkeeper".
We welcome James to the club and wish him a long and happy stay at Sunshine George Cross.