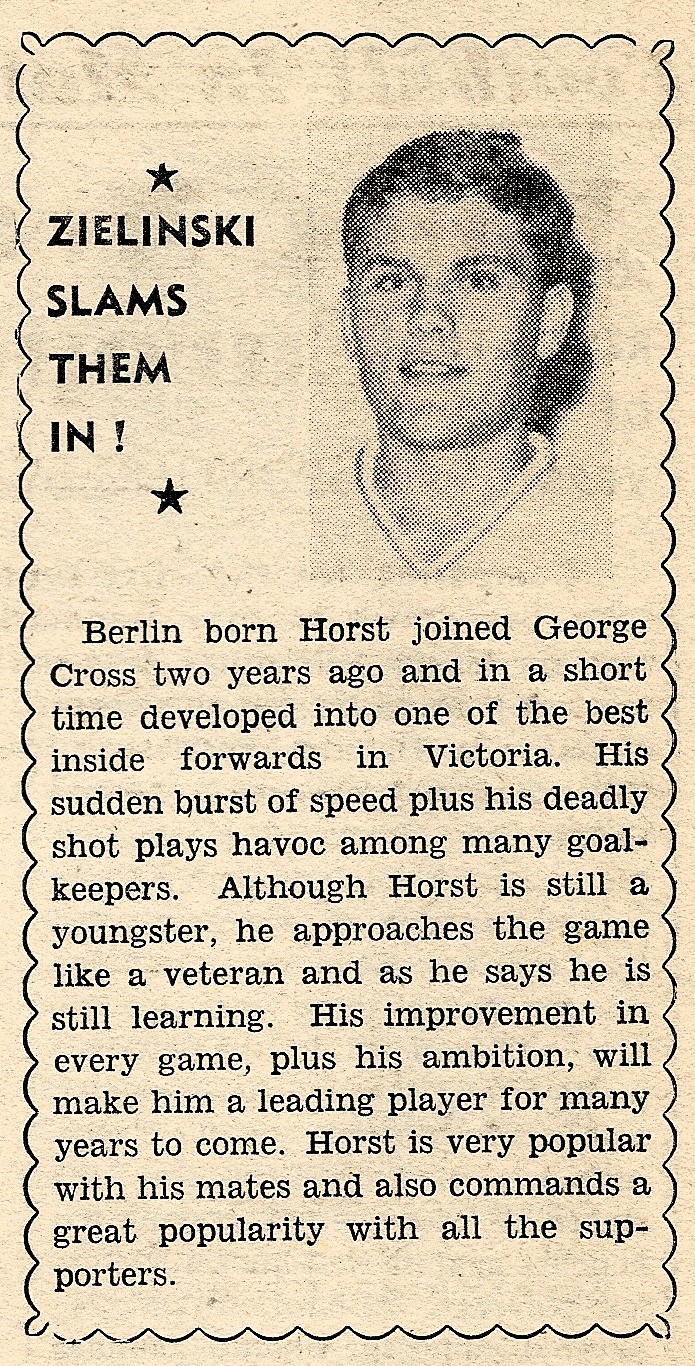 WHEN TRAGEDY MARRED A GREAT DAY
Sunshine George Cross' meeting with Moreland on Saturday coincided with a clash between the same two sides at the same venue over the Easter weekend in 1962. It was on Easter Monday 23rd of April 1962 when George Cross visited Campbell Reserve to play their round 4 State League fixture. George Cross had made a steady start with one win and two draws, while Moreland had yet to win a game.

Unlike Saturdays game the tiny ground in Coburg attracted a crowd well in excess of 4,000 who paid two shillings (20 cents) each to see the game.

George Cross fans were feeling confident of adding another win and waited in anticipation to see their latest import John Marshall Gibb take the field in this match. The tall lanky Gibb had just landed in Melbourne from Scotland and his arrival created a festive atmosphere at the ground, as well as adding extra $ to Moreland's gate taking.

The Cross fans were in joyful mood when after only 12 minutes the new signing opened his account when he beat Moreland's keeper Eddie Azzopardi with a high shot. After 18 minutes sensational youngster Horst Zielinski made it 2-0 with a great goal and supporters were now discussing how many goals would be scored.

George Cross had Moreland camped in their own half of the ground and should have added to the score when Gibb and Pepe Cubero saw their shots hit the post.

It was 3-0 two minutes into the second half when the ever green Pat McKenna scored from the penalty spot.

The joy and the festive Easter cheers soon turned to gloom within a few minutes of the third goal when Zielinski was put through on goal by Gibb. Azzopardi came out to narrow the angle and dived at Zielinski's feet that caused one shuddering crack, that echoed around Campbell Reserve.

Both players stayed down, but only Azzopardi was able to get up with Horst Zielinski's leg badly broken, with the shin bone protruding through his skin. He was unable to move, or be moved and laid prostrate on the ground in agony for ten minutes before the ambulance arrived to take him to hospital.

The game resumed after a 15 minute hold up and though the Cross had to play the rest of the game with 10 men, they were still good enough to add a 4th goal scored by Lolly Vella.

Horst Zielinski never played with George Cross again and though he made a comeback with Austria and Richmond, he was never the same player he was before this tragic accident.

The gloom that descended on Campbell Reserve after this accident was in sharp contrast what had preceded it. Players from both sides were effected by what had occurred and played out the rest of the game without the same zest they started with. George Cross supporters also became much more reserved for the rest of the game as their thoughts were focussed on a young man taken to hospital.

Zielinski came to the club an unknown quality who turned up and asked for a trial. In his short time with George Cross he became a sensation and was a star in the making until the unthinkable happened. Fans were just getting to know the young German star when it suddenly ended on that fateful Easter Monday in 1962.
These cutting are from the George Cross Review of Saturday 28th of April 1962.